Aluminum Anodizing Council Summit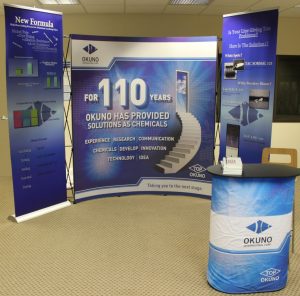 Please come and join us at the Aluminum Anodizing Council Summit in Westminster, Colorado September 19-21 2017. Our team will be there ready to show you more of what Okuno has to offer. We can support your shop from the cleaner to the sealer and beyond.
Not only will we be setting up a table , location table top 3, but we will also be presenting. Kenji Hara, will be presenting on Dyeing and the Light Fastness of Aluminum Anodizing. The talk will detail the effects of surface conditioning and the affects of it on the dye-ability. We will also present information of dye penetration investigated by Glow Discharge Optical Emission Spectroscopy (GD-OES). Lastly will talk about the light fastness and several methods to improve light fastness, which can be a major issue for decorative pieces of anodized aluminum.
So please join us at the AAC Summit and if you are not registered you can register here. If you have any questions or would like to set time to speak with one of our sales staff during or after the even please contact us and we will set up a time for a one on one conversation with how we can help you shop.